Notevibes – Top This Month's Choice
Reading has never been as fun, simple, or quick as listening. When we listen, we understand better. Therefore, it is great news to hear that TTS, or text-to-speech, technology, has advanced and made life even easier.
Text-to-speech, or TTS, is a technology that can translate written words into recordings or voices. In other terms, it is a technology that reads any kind of digital material aloud, so the user can simply listen to it rather than manually read it. Voice synthesis, which denotes the creation of artificial human speech, is another name for text-to-speech.
Although text-to-speech sounds like a recent discovery to most people, it has been around for a couple of years. Just in the past, it was only available to huge companies and select government agencies. However, this technology is now easily accessible all around us. Popular examples include voice assistants like Alexa and Siri, read-aloud options on webpages, and audiobooks.
Even though text-to-speech services are often used for convenience and ease of life, their significance goes beyond that. As for people who cannot read or write as well as those with visible disabilities, this technology has proved to be very beneficial. Additionally, it makes a significant contribution to the fields of business, education, and technology itself.
It's about time we looked at some of the best text-to-speech software, or you would say, text-to-speech converters, now that we are a bit more familiar with this technology. The top 20 best text-to-speech software of 2023 will be discussed in this article along with its costs, benefits, and drawbacks.
How Does an Online Text-to-Speech Tool Help You?
Want to know how online text-to-speech software is beneficial to individuals and professionals?
Here are some main benefits:
Access to a More Diverse Audience
One of text-to-speech 's initial applications was the removal of accessibility barriers. That is still true. As for elderly people who struggle with increasingly complicated user interfaces, those with disabilities, and people learning a second language, text-to-speech provides new opportunities. However, text-to-speech has benefits that go beyond morality or even regulatory compliance.
Voice technology is also important for expanding your clientele, and text-to-speech makes it more accessible than you might think.
Productive Customer Service Automation
Conversational AI is finally delivering on the promise of interactive voice response (IVR) systems. Poor containment rates, long hold times, and challenging menus are all things of the past. However, to create an automated customer care system that truly pleases callers, you need a warm, authentic text-to-speech voice.
These natural text-to-speech voices are comforting due to their warm, sincere tones. Because they are more vocal with their emotions, callers feel more at ease. Even more, it is available in several languages.
Stronger Internal Communication
Maintaining goals and methods across the entire firm requires effective corporate communication. Diverse ways of communicating are necessary for an expanding and large corporate firm.
When text-to-speech is accessible, each employee has the choice to read, listen, or do both. This keeps the flow of information open for all parties, lessens workplace irritation, and enhances the environment for employee engagement and fulfillment.
Removes Language Restrictions
One of the biggest issues online is language barriers since more and more social exchange may be recognized across borders as a result of globalization. People are reading a wide range of material and learning new languages. Literature in every language is available online, including French, Japanese, German, Spanish, and English.
Essentially, text-to-speech helps people learn, develop eloquence and articulation, and break down language and dialect barriers. It is for this reason that certain top-notch text-to-speech technologies offer detection of more than 100 languages, encouraging employees all over the world to use and benefit from this technology.
20 Best Text-to-Speech Online Software
Text-to-speech is a sophisticated voice synthesis tool that reads both written and digital texts aloud. The program is used by almost everyone, including adults and children, as well as professionals and students, and it has many different use cases.
Almost all personal digital devices, such as laptops, smartphones, and other mobile devices, support text-to-speech. Furthermore, text-to-speech uses a computer-generated voice, and the reading speed can often be increased or decreased.
We will outline the best text-to-speech tools in this article. To assist you in choosing the best text-to-speech tool for your needs, we've compiled a list of both the top paid and free options.

Notevibes is a fantastic text-to-speech program that has both a free and a feature-rich commercial version. Users have access to over 500 characters of translation and can modify the pronunciation.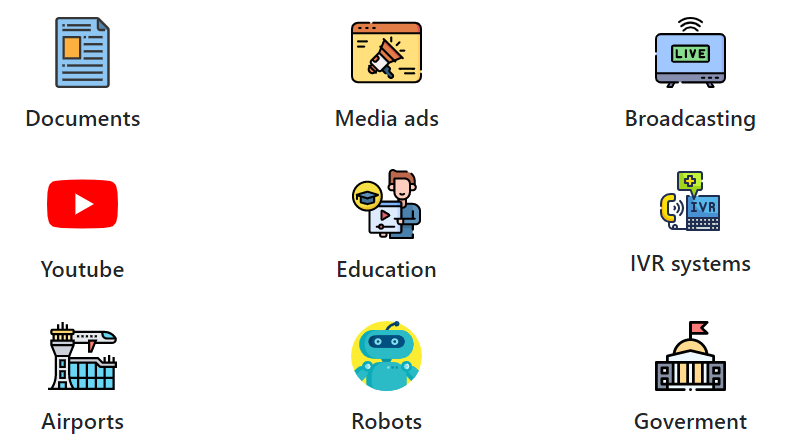 Clients now have access to all the tools necessary to understand a foreign language, and significantly improve their reading comprehension. Additionally, 177 unique voices speaking in 18 different languages are also available on Notevibes.
Furthermore, users love the realistic-sounding voices that help in the pronunciation. Users from all kinds of backgrounds can profit from the tool's extensive range of functions.
Save Your Time and Money Using Notevibes
Use the text-to-voice converter to make videos with natural-sounding voices.
Features
---
The platform is ideal for creating instructional, educational, and sales films and courses. Notevibes' main objective is to concentrate on the e-learning market.
It includes an easy-to-use text editor that allows you to highlight words and change their emphasis, volume, tempo, and pitch, and it also shows you where to insert pauses. This is quite simple to use and undoubtedly one of the product's best features.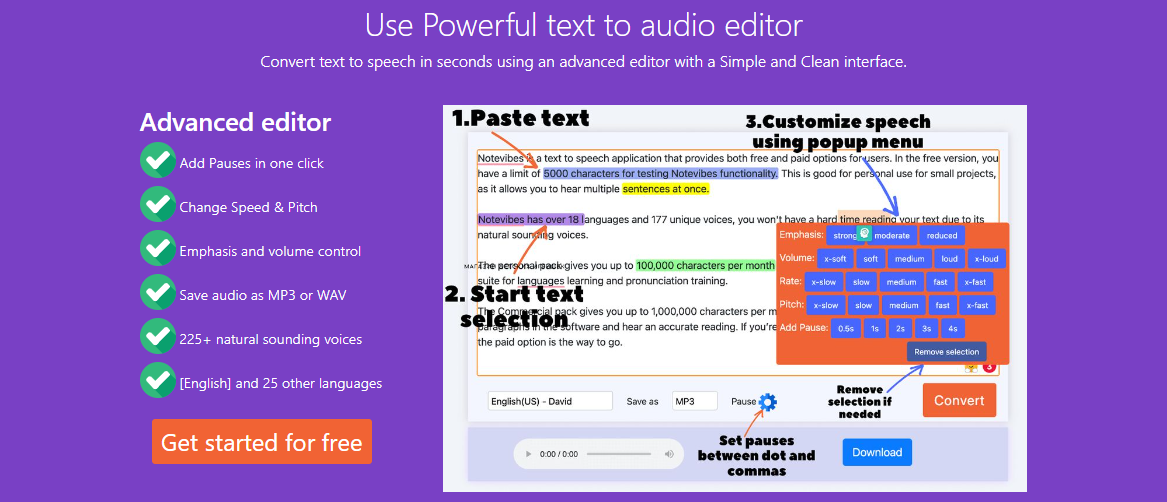 Available languages: English, British English, Australian English, Indian English, German, Spanish, Dutch, French, Italian, Norwegian, Japanese, Danish, Swedish, Polish, Hindi, Russian, Turkish, Portuguese, Vietnamese, Korean, Arabic, Greek, Malaysian, Mandarin Chinese.
Are you trying to redistribute your generated audio files? You can trust Notevibes text-to-speech tool for that. This software can quickly redistribute any text you place in it, leaving you a clearly sounding file that you can use for further use.
Also, you can make human-like voiceovers for your videos.

Save your time and money using Notevibes over hiring professional voiceover artists. Use Notevibes text-to-voice converter to make videos with natural-sounding voices.
A month's worth of 100,000 characters is included with the personal bundle (1,200,000 total for a year). Your balance will be refilled with a fresh pack on the following payment date. The previous balance won't be carried over to the current month.
Try the Powerful Text to Audio Editor Notevibes
Convert text to speech in seconds using an advanced editor with a simple and clean interface.
Pros & Cons
---
Pricing
---
Unfortunately, Notevibes does not offer a free trial period, and the personal pack, which includes 200,000 characters and all voices, costs $19 per month.
But there are some users that will want commercial-level features from Notevibes (Youtube, broadcasts, TV, IVR voiceover and other businesses). If you pay $99/month for its commercial pack, you'll have over 1,000,000 characters available, an advanced voice editor, SSML tags support, redistribute audio files and 100% own intellectual property for all files. 25 languages are included, so you'll have more versatility than competing software.
Although there is a 20% discount if you decide to pay annually;
Choose the best yearly option for you from the pricing table below.
Yearly Pricing Packs (Save 20%)
For Personal Use

1,200,000 characters pack per year

225+ Premium voices available

21 Languages

MP3 Download

1 Account License
For Commercial use: Youtube, broadcasts, TV, IVR voiceover and other businesses

12,000,000 characters pack per year

225+ Premium Voices available

25 Languages

Team License (up to 4)

Mp3, Wav Download

Audio files history

Redistribute audio files

You 100% own intellectual property for all files
For Corporate users

All in Commercial pack and:

50,000,000 characters pack per year

Master account for management

Team License (up to 10 users)

Priority email support
Monthly Pricing Packs
For Personal Use Only

200.000 characters

225+ Premium Voices available

25 Languages

MP3 Download

File Storage
For Commercial use: Youtube, broadcasts, TV, IVR voiceover and other businesses

1.000.000 characters

225+ Premium Voices available

25 Languages

Advanced voice editor

Mp3, Wav Download

Audio files history

Redistribute audio files

You 100% own intellectual property for all files
Client's Reviews
---
Review 1

Review 2

Review 3

Review 4

Review 5
So far, I'm loving Notevibes! I've been using it for over 4 weeks and found it very helpful. Not only does it help me with comprehending text faster, but it also helped me pass my Reading exam! Thanks!
I am dyslexic so reading can be difficult most of the time. But with Notevibes, I can copy and paste text passages and hear it clearly! It has a simple interface, making it easier for me to use its software. Highly recommended. Will be using it again!
Notevibes is one of my favorite text-to-speech software programs I use for my students. It has a minimal issue with the pitch tuning, but it isn't noticeable, and my students still have a blast using this when instructing them in class.
Everything works so far with Notevibes, but there is only one small thing that I can't ignore. The free version is only limited to 200 characters, making it hard to add long passages into the program unless you pay for the paid version. Still fun to use!
I'm having a hard time using Notevibes. Transferring audio files is difficult unless you want to wait an hour for the software to convert it. If they were able to improve that, everything would be fine!
Our Verdict of Notevibes
---
Even though Notevibes is undoubtedly among the best in terms of technology and voice quality, some people will choose to use other solutions instead due to the inability to test them out before buying.
However, if seeing examples on the top text-to-speech software is enough for you, there won't be a problem with the free trial.
2. iSpeech

iSpeech is a simple and user-friendly online text-to-speech converter that is also available for mobile devices. Its text-to-speech functionality, which is supported by Speechelo, simplifies and optimizes the entire process. As for text-to-speech conversion, it supports a few languages and has the ability to modify the audio's speed and gender.
Additionally, it offers API integrations for embedded and hosted services, allowing text-to-speech to be used in any app or service. As a result, it serves as a straightforward but effective and efficient text-to-speech program to create realistic voiceovers.
Features
---
Thanks to iSpeech, the organization behind DriveSafe.ly®, the market leader in efforts to discourage texting and driving, you can use the app's human-quality text-to-speech recognition. To hear the translation in the language of your choice, simply speak or write any word.
Over 30 languages are supported by the text-to-speech program. The user can select the language from a drop-down menu and one of three speeds—slow, regular, or fast.
Developers, eLearning, IVR (Interactive Voice Response), publishers, voice cloning, and online readers can all benefit from the specialized speech solutions. These services are not free; rather, they are expensive. They do, however, have advantages in professional use cases.
Pros & Cons
---
Pricing
---
Although using iSpeech online is completely free, there are several pricing plans for extra features including downloading audio and API connectivity. It really depends on your needs because it offers a variety of options including Pay Per Use, Creative Pricing, Pay Per Install, One-time Fees, etc.
Client's Reviews
---
Review 1

Review 2

Review 3

Review 4

Review 5
The Chrome application works like a charm! iSpeech made the interface easy for me to read, as I can download IVR prompts for more clarity. I like this text-to-speech software because it reduces the time it takes to understand passages. Thanks!
I like iSpeech! The desktop application is a simple copy and paste to hearing my favorite readings. I recommend using this app but notice the slow mobile version as well. Overall, I still use it every day as it's multi-language feature is a lifesaver.
iSpeech needs a lot of changes! For the German language, some of the words can be hard to hear. And the slow reading feature is a bit TOO slow. If iSpeech made these improvements, I'm sure the text-to-speech software can be one of the best out there.
The best thing about iSpeech is its adjustable reading speed. I can turn the reading speed down if I need to hear more clearly. For most bedtime stories, I can use the normal reading setting and can rewind the text if I need to. Highly recommended.
So far iSpeech has been great to me. But I can't get past some of the languages on the app. While some have a robotic sound, the majority of the words are easy to hear. You can still learn a lot with this tool though!
Our Verdict of iSpeech
---
3. Murf

Murf is a text-to-speech converter and AI-based voice generator that is well-known for producing voiceovers of studio quality quickly. The software uses artificial intelligence to create human-like voices as opposed to the standard robotic ones, which is different from most text-to-speech programs on the market.
You can also create voiceovers with studio-like quality, add audio to films, and more using its robust studio. Because of all these qualities and its high level of service, it comes in at the top of our list.
Features
---
Murf is becoming more and more well-known, and it appears to be receiving recognition for its excellence in text-to-speech software everywhere you look. The software allows you to upload and record your own voice for use as one of the platform's voices while also basing its voices on those of professional voice artists.
Depending on who you are and the type of voice you would want for your brand image, Murf separates its voices. However, among these categories, Murf, which has 120 voices among these categories, appears to be concentrating just on the English language at the moment.
As for those who want to develop their work in one location, Murf also has a powerful editing studio where you can combine music and imagery.
Anyone can use the user-friendly interface of Murf. You can choose the voice you want from the library after uploading your text, and you are free to modify the voice and adjust its pitch and pace as needed.
Pros & Cons
---
Pricing
---
Murf offers three different pricing plans, ranging from a free plan to an enterprise edition. You can test out all 120 voices in the free edition, but voice generation is limited to 10 minutes. The basic ($19/month) version offers 60 voices in 10 languages and 24 hours of voice generation each year.
With 96 hours and transcription choices, the Pro edition costs $39/month, while the Enterprise version, which is essentially unlimited, costs $240/month. If you pay annually, there are some significant discounts.
Murf is a recognized, expert option if creating AI speech content is a key component of your business. Depending on your needs, there is a plan for everyone. The free version is a wonderful addition because it allows you to try it out without spending any money and fully experience all its voices on offer.
Client's Reviews
---
Review 1

Review 2

Review 3

Review 4

Review 5
When using it to translate Polish, I find the text easier to understand. The voices are loud and clear, and I don't have to struggle with the text being deciphered. 5 stars, as it helped me a LOT with improving my reading speed and comprehension.
Hi, I have been using Murf for over 2 months now. While it does have a functional software, I have a hard time with the English speaking robots. They sound robotic, but this app has enough feature to back up for it.
Slow, unresponsive, and only allows for a few passages to be read at once. This makes it hard for me to actually utilize the software unless I have the paid version. 2 Stars, as I'm sure they'll make changes to these problems at some point.
So far so good! I gave it 4 stars because I like how I can integrate my readings on my phone. So I can have my Hungarian readings read out loud to my class. Its mistakes are minor, as I can still find use with this software.
I am Portuguese, so English isn't my strong point. This software makes it easy to convert my readings into MP3 files with the press of a button. I give it a 5 stars because of its flexibility, reliability, and its intuitive interface.
Our Verdict of Murf
---
4. NaturalReader

A powerful software called NaturalReader can turn any text or paper into audio at any time and in any place. It is one of the best TTS programs that can produce excellent, realistic-sounding voices today.
OCR Technology, which reads texts aloud from scanned documents or images for you, is one of its special features. The text can also be used to make audio files with full rights for commercial usage. NaturalReader is available online, through software, and through a Chrome extension.
Word documents, web pages, PDF files, and emails may all be read with NaturalReader. All these programs have a floating toolbar that you can use. Kids can create MP3 or wav files in the purchased versions to listen to study material on the go. Its goal is to familiarize customers with the features of the NaturalReader software's commercial version. NaturalReader can do the most basic text-to-speech tasks on its own.
Features
---
Natural Sounding Voices
You'll get two to six premium voices, depending on your paid tier. This advanced text-to-speech software with natural voices offers a pleasant listening experience and crystal-clear reading. Additionally, you can use these voices to create captivating voiceovers for YouTube videos and social media advertisements.
OCR Technology
NaturalReader's optical character recognition (OCR) feature allows it to translate printed characters into digital text. When working with printed PDF files that you want to view or edit, this feature is very helpful. Additionally, you can create readable and portable e-books using screenshots taken from programs like Kindle Books or iBooks.
Pronunciation Editor
You can also change how some words are pronounced thanks to this special feature. The Pronunciation Editor is available on free versions of the NaturalReader software and app.
Pros & Cons
---
Pricing
---
NaturalReader offers a free plan in addition to three simple price tiers:
Free ($0/Month):
Unlimited use with free voices,20 minutes each day with premium voices, and a pronunciation editor.
Premium ($9.99/Month):
Limitless use with premium voices, OCR function, MP3 conversion, and a Chrome extension with unlimited premium voices.
Plus ($19/Month):
All of the aforementioned features plus 100+ Premium and Plus voices for Chrome Extension.
Client's Reviews
---
Review 1

Review 2

Review 3

Review 4

Review 5
I drive to work often, so I'm always looking for a text to speech software that can help me enjoy the ride. And with Natural Reader, it does that and more. The voices are clear sounding and natural, so I don't have to waste time rewinding it on my ride. Will recommend!
I love using Natural Reader! I can convert different text readings into formats such as WAV or MP3 and use them right on my Android phone. I can use all file types (PDF, Microsoft Word, Email), which is better than other tools. I will use it again!
Using Natural Reader has worked, but there are so many flaws within it. It's hard to ignore the site's issues, which also urges the user to pay that hefty price tag for more features. The free version can be used, but they need to improve some of its infrastructures.
My first impression of Natural Reader was positive; it only has one small issue with it. It has an easy to use interface and multiple voices that do sound realistic, but the paid version is rather expensive. I still use the app every day for reading, and it does help with that!
There are a few glitches within Natural Reader, and that's why I'm giving it 3 stars. Overall, it works well, I can paste my text inside the box, and I'll hear a natural voice most of the time. So it's very usable, but try to watch out for those pesky glitches!
Our Verdict of NaturalReader
---
5. TTSReader

TTSReader is one of the easiest and best free text-to-speech readers. It reads texts, PDFs, and eBooks aloud instantly with real-sounding voices. Since it is a simple online program, there is no need to download or log in before using it.
Even though it is free software, it contains a lot of amazing features. TTSReader reads aloud documents and eBooks for you by uploading them, and it offers a variety of options for natural-sounding voices in various languages and dialects. Although you cannot directly download the audio, you do have the choice to record audio and store it in the web format.
Following that, you can either press the play button or try out a few different high-caliber voices. Although the program supports other languages, English is the one that is given the most attention. Both American and British voices are available, and the sound quality is decent.
Features
---
The text box is the first thing you'll see when you visit the website. It allows you to paste text, and the software will read it aloud. You can upload documents to the site, and it supports txt, PDF, and ePUB file types.
After that, you can either immediately press the play button or experiment with a variety of top-notch voices. This software is mostly focused on the English language, though it supports other languages as well.
As soon as you check out TTSReader, you will see why this app is so popular. Text files can simply be dropped into the program; it is easy to use, and the user interface is easy to understand. You won't need a tutorial even if you've never used a text-to-speech program before.
Additionally, creating an account is not necessary to use the app. It works without a password, it's lightweight, and it works entirely online.
Pros & Cons
---
Pricing
---
TTSReader has no subscription fees and is entirely free. It does, however, sell a premium Chrome extension and a different commercial version.
Client's Reviews
---
Review 1

Review 2

Review 3

Review 4

Review 5
Publishing audio can be difficult at times with the TTS Reader, but it's not too much of a nuisance. I gave it 4 stars because of its simple-to-use browser; I can use it anytime without having to download it onto my computer. Great software so far!
Wow! So I'm an English major, and I have to say the TTS Reader is awesome! The TTS Reader has helped me with proofreading my writing and catch my mistakes. I improved my writing with it, and I'd recommend it for anyone in college that needs help with their writing!
I'm tired of using this! Every time I type in the box, the audio always glitches and skips a paragraph! It needs to be improved immediately! It's not totally useless, which is why I'll give it at least 2 stars.
I like the Chrome extension, as it works faster than the other tools I've tested. It's fast, reliant and I can see a HUGE difference in my reading ability after using it. TTS Reader gets a 5 stars from me, as it's helped me continue to enjoy reading despite my dyslexia.
TTS Reader is great, nothing is subtracting that from them. But, the reason why I gave it 3 stars was due to the lack of natural sounding voices in the Russian language. It sounds slightly robotic, but it still sounds good to the ear. If you do use it, you might have to use it a few times to get used to this.
Our Verdict of TTSReader
---
6. FromTextToSpeech

FromTextToSpeech is straightforward and easy to use. It offers a simple-to-use platform for quickly translating text-to-speech online.
While there are many text-to-speech programs available with fancy features, some users prefer straightforward apps that let them convert texts to audio online. Text can be converted into an MP3 audio file and played back on your preferred device.
The FromTextToSpeech platform is easy to use and offers smooth navigation. End users can simply copy their material into the textbook and paste it there while they wait for the audio transcription.
English, Spanish, German, and Russian are among the most popular languages supported by the platform, along with other languages such as Mandarin, which is often used in large corporations. Furthermore, FromTextToSpeech humanizes its voiceovers by selecting the voice of either George, Alice, Daisy, Jenna, or John.
The maximum number of characters that can be entered is 50,000 characters, and users can also choose their preferred speaking speed.
Features
---
FromTextToSpeech is one of the best programs when it comes to providing a studio option with a large number of various voice and language options, and it is targeting a similar market as Murf. Additionally, FromTextToSpeech allows you to upload your own voice for analysis and the creation of a custom template to use in the studio.
If you're interested in this software, FromTextToSpeech is a great option for creating videos and music. After creating an account, you can change how your words are pronounced. Pauses and speeds can also be modified.
Furthermore, FromTextToSpeech is ideal for podcasts, YouTube videos, e-learning materials, and ads. If these are one of your goals, then you can easily create a professional video using a variety of human-like voices and varying speeds.
The team behind FromTextToSpeech has made a sincere effort to integrate expert software with user-friendly features. Simply upload your text, select convert, and the voiceover will be complete with any necessary adjustments.
Pros & Cons
---
Pricing
---
In a world full of pricey tools, FromTextToSpeech provides a simple, free option that works. Since it's free, From Text to Speech is the best option if you are on a budget. Not only does it have a fast and simple system, but you can get a short reading in voice form within seconds. So think about using this software to help improve your reading comprehension.
Client's Reviews
---
Review 1

Review 2

Review 3

Review 4

Review 5
Everything works with From Text to Speech on first impression. And I really enjoy using its browser for reading! The reason why I'm giving it 4 stars is that the system could provide more features to help it stand out from other TTS software I use regularly.
I wanted an easy TTS program. And there are so many on the market that have worked, but none have done it as well as From Text To Speech. The software is so easy! I've shown my son how to use it, and I've seen an improvement in his test scores and reading comprehension. Recommended and will use again!
The voices are so robotic! I also don't like that they are only limited to 7 different languages. If they added a language for Chinese and Arabic, I could see more use of it. 2 stars, only because the text and paste box still works.
Most of my students in my class have a have reading disabilities, and I was having a hard time finding a solution! When I was suggested to use From Text to Speech, I noticed my students had more fun enjoying the content presented in class. 5 Stars!
I gave it 3 stars not because the app isn't good or anything, it just didn't offer anything exclusive, unlike other TTS software I've tried in the past. Not bad, but not good either. Use it for short reading, but I hope they release a paid feature which allows a higher credit limit.
Our Verdict of FromTextToSpeech
---
7. Oddcast

Oddcast was founded in 1999 with a focus on emerging technologies in the disciplines of character development and vocal ware. To assist its users in producing relatable content to share with others, it offers a variety of features including Character, Voice and Audio, Mini Customization, Widgets, 3Dworlds, Head Tracking, Speech Recognition, etc.
Furthermore, Oddcast text-to-speech is a high-end software that can be used for many different apps because it has advanced editing features. In addition to being free, this Oddcast platform offers full text-to-speech software features.
This amazing tool has been available for more than 10 years. As a result, this platform offers translation services for almost all languages. You can use more than 180 voices on the Oddcast text-to-speech platform for free.
Features
---
WavNet technology, which Oddcast uses, was developed to close the gap between human and machine sounds by over 70%. The outcome is an AI voice that sounds realistic and can be used in podcasts and social media.
Users of Oddcast's text-to-speech tool have access to more than 185 male and female AI voices in more than 30 different languages. The character creation tools in the program can be merged with the text-to-speech feature, and many platforms and applications, including websites, mobile apps, and IVR systems, can be integrated with the feature.
Furthermore, the text-to-speech voice's pitch and speed can also be adjusted. Developers can incorporate the read-aloud feature with e-books, news articles, chatbots, and more by using the Oddcast text-to-speech API.
Pros & Cons
---
Pricing
---
Fortunately, OddCast text-to-speech tool is free to use. So you don't have to worry about paying extensive fees to use the software. Also, it has a demo option, where users can try out the software for free and utilize its short 600 characters limit.
You will have to contact customer support for the pricing plan.
Client's Reviews
---
Review 1

Review 2

Review 3

Review 4

Review 5
I am originally from Brazil, and I have trouble translating English text. But with Oddcast, I can transcribe what foreign speakers say and be able to speak back to them clearly. So it's a good translator, but also use it if you are ever stuck with someone who speaks differently than you. 5 Stars!
Oddcast is a very unique one. Most of the time it works well for me. But there are some times where the voices won't relay my text correctly. So I'm giving it a 4 stars because it does work well, and I do enjoy using it for reading.
I just can't seem to work with Oddcast. 2 stars because of its slow translations, and the unnatural sounding voices. Without these flaws, it still works well; I would just like to see more improvements before I raise it up a few stars.
Absolutely love using Oddcast. I can read passages quickly, and I have such a wide language selection when using it. I like to read stories in Spanish, and this text to speech software definitely makes it possible!
The developing API needs some work, so that's why I'm giving Oddcast a 3 out of 5. Besides that, it's useful at manipulating pitches, sound and text speed. And its emotive cues is a great touch, so it can be a good learning device.
Our Verdict of Oddcast
---
8. ReadTheWords

A free online resource that helps people with written content is called ReadTheWords.com. It uses text-to-speech technology to do so. By using the service, users can create a crystal-clear audio recording from almost any written information.
Additionally, a variety of voice characters can be used in this online text-to-speech application to convert text files and documents to audio files. There is a free version as well as a premium upgrade that is a little pricier.
This text-to-speech software can be managed through a toolbar at the top of the computer screen, and it is suitable for both iOS and Microsoft Word. The text that is read out loud can be altered to slow down, pause, speed up, or replayed back a few seconds with the help of the accessibility toolbar.
Furthermore, the text-to-speech program allows users to save and download audio files to iTunes.
Features
---
To create high-quality text-to-speech outputs, ReadTheWords uses over 600 human-like voices from Google, Amazon, and Microsoft in more than 75 languages. Plus, you have access to an in-built editor that allows you to add pauses, change pronunciations, embed an audio widget, and incorporate different speaking styles to make the content more user-friendly.
Also, the platform has an audio widget that can be included, a download button that is optional, exporting options, and customizations to fit your website.
Pros & Cons
---
Pricing
---
Price wise, the Read For Words application is great for people wanting a cheap and free option. On this version, it allows you to paste simple passages and increase your reading comprehension.
ReadTheWords offers a free trial period, and the Silver Membership, which includes 200,000 characters and 15 standard voices, costs $10 per month. A Gold Membership is included with the $15/month bundle and allows the creation of an unlimited number of files.
Client's Reviews
---
Review 1

Review 2

Review 3

Review 4

Review 5
I always wanted a TTS app that I can use with no hassle. And Read the Words has the ability to read Spanish and French without sounding robotic. The voices sound like someone is reading it to me! 5 Stars and I will be using this more often!
For such a simple Text to Speech Software, Read the Words has been my favorite ones. Not only does it allow me to convert my texts into MP3 files, I don't have to strain my eyes anymore when looking at the screen. 5 stars indeed!
2 Stars. Does it work? Yes. Does it work all the time? Of course not. The app tends to have glitches when translating French and I can't transfer files into my phone! Once these improvements happen, I can't wait to see how it will work.
Everything works well with Read the Words, but there's one thing that's stopping me from giving it a 5 stars. While it says, you can add images and audio; it's slower than expected. Still, it works, and I find a lot of usage out of it!
I wanted to use Read the Words to make a message for my husband. And while it does work, I do feel that the app is only limited to only English, Spanish and French. So it's still great to use, only if you need something simple.
Our Verdict of ReadTheWords
---
9. Text2Speech

This free and simple-to-use text-to-speech converter is available online. Although it is not the best available, it is worth considering. The straightforward appearance captivated us at first glance. Also, there are no difficult procedures to follow.
It is not necessary to open an account with Text2Speech. Most importantly, even non-technical people can use it easily. Text2Speech prioritizes conciseness. Large files cannot be uploaded; however, it is great for smaller text files. Given that it is a free piece of software, its functionality is limited.
Features
---
The additional characteristic of the Text2Speech software is the incorporation of multiple languages and texts. This software is mainly available in English, but you do have access to up to 23 different languages with this program. One important part of this feature is that after the text has been entered, you can use the voice-over without having to do anything else.
There is no need for you to register. Most importantly, even for a layperson without any technical understanding, it is simple to use.
You can enter up to 4,000 characters of text into its interface. Male (US English with a Scottish accent, Marathi, and a low-quality US English version) and female voices are available (US English and Hindi).
Pros & Cons
---
Pricing
---
Affordability is important when looking for the best text to speech program. Fortunately, Text 2 Speech is free of charge. This gives you the ability to test out the software and use it to help you read, translate, or fulfill your reading hobby.
After the free usage limit is reached, the cost of Text2Speech is determined by the number of characters sent to the service each month to be converted into audio, and it starts at $4.00 per 1 million characters.
Client's Reviews
---
Review 1

Review 2

Review 3

Review 4

Review 5
Using Text2Speech is fun. It doesn't need to have any mobile versions as you can just use your browser. I gave it 5 stars because I can have text spoken in Hindi, which some apps don't provide. So I'm definitely a fan of using this one.
I like using Text2Speech! I can add my text in the textbox and hear it in an MP3 format. It can be slow at times, but the site is still responsive and I can still read effectively with it. 4 Stars, as it's still great to use!
Sure it's easy, and sure I can copy and paste text in it. But what if I want more? How come it only has 3 languages? I like using Text2Speech, but I have to give it 2 stars because it doesn't have that much diversity as other tools I use.
Text2Speech is amazing! I can simply open up my Google Chrome page and just translate my text on its browser. This is simple and better than other free tools, that are limited. So I'll give it a 5 stars as I am proud to use it when reading!
Text2Speech is good, but I felt like there were a few problems with it. I wish they had it in Spanish, but sadly it doesn't. 3 stars because it performs well, but it should have more advanced features than advertised.
Our Verdict of Text2Speech
---
10. ReadSpeaker

ReadSpeaker allows organizations and educational institutions to build and deliver speech-enabled apps, and devices. Managers can use this program to enhance their e-learning and training materials, add dialog to animations, and convert text to high-quality audio recordings. The software helps companies improve their consumer engagement and satisfaction.
You can type a message or paste any text, choose your language and voice, and then click "listen" to hear the text being read out aloud.
Moreover, you can add your speech to your apps and website to make the content available to the audience. Create audio files with voices that seem realistic, and use text-to-speech to give robots, IVRs, and public address systems maximum satisfaction.
Make your content available to a wider range of internet users, including those who struggle with literacy, individuals with learning disabilities, people with reduced vision, language learners, and anyone else looking for an easier way to access digital content while on the go.
Features
---
Managers and organizations can reach a larger audience and improve their user experience by using ReadSpeaker. The government, businesses, charitable organizations, educational institutions, and website owners can all use this platform to improve the user experience for their website visitors.
To enable their clients to listen to audio versions of their material, users can add speech to their website or application using this technology. Companies can improve content accessibility and expand the audience for written works.
More than 200 real-sounding voices in more than 50 languages are available through ReadSpeaker. On a variety of devices, the platform reads the content aloud without the need for file or plugin downloads.
Pros & Cons
---
Pricing
---
ReadSpeaker is the most affordable option currently available, which offers institutional licenses as well as individual comprehensive subscriptions starting at $4/month.
One thing you'll notice is that there's no premium option available. But it does have over 50 languages available and 200+ voices. It consists of dictionaries and pronunciations that you can customize to your business' needs or your industry-specific terminology.
Client's Reviews
---
Review 1

Review 2

Review 3

Review 4

Review 5
When using ReadSpeaker, I have no problem translating my French language to customers in my restaurant. This app is fast and can transcribe your text into audio within minutes. 5 stars, as I can recommend this to my students as well.
I am trying to learn Japanese for my school's final exam, and ReadSpeaker was of great assistance. For example, it allows me to customize the message's cadence, speed, and reading style. So 5 stars from me.
I can't stand ReadSpeaker! It has glitches in its voice speaking, as it has a robotic voice once it starts talking. If they can improve its interface, I'm sure it can be a better tool. 2 stars out of 5, and I will wait to see changes out of it.
I like using ReadSpeaker! While it should have a mobile feature for cellphones, it still works pretty well. The next thing that makes it great is its natural sounding voices, which sounds calming once they read aloud. Definitely will use it again.
Overall, it works well. But I can't get past the software's limited free version. And paying for it can be quite expensive. Still, its a fun text to speech reader that I tend to use more often. You should still try it though!
Our Verdict of ReadSpeaker
---
11. Text To MP3

With the help of this OS text-to-speech voice synthesizer, you can quickly convert texts from Word, PDF, or other documents into speech in the majority of languages. You can also control the speaker's accent, speed, and gender.
Text To MP3 has more than 25 alternatives available for a range of operating systems, including Windows, Mac, Online / Web-based, SaaS, and Linux. The most effective substitute is NaturalReader. You can try eSpeak or Read Aloud if you're looking for a free option because this software is not free.
Features
---
The installation process is simple and quick; it doesn't require the download of any third-party products and doesn't take very long. Once you download it, a straightforward and intuitive interface greets you. It only has a few buttons and a slider bar; therefore, it is clear that all types of users can learn how to handle it with great ease.
By using a file browser and the "drag and drop" feature of this software tool, you can upload TXT files. In addition, you can load the provided examples to test it out.
With the use of slider bars, you can choose from a variety of Windows or Google-based voices and control the speaker's volume and speed. When you're done, you can start the conversion, play the audio track, and store it on the HDD as an MP3 file. This process takes a few seconds, and it does not burden the computer's performance, as CPU and memory usage is minimal.
Pros & Cons
---
Pricing
---
Text To MP3 is entirely free and unrestricted in its features. There is no evaluation period either. The program is free and will always be in full working order.
While some of the advanced features require you to register to Text to MP3, you can still enjoy things like an increased word limit without paying a cent. The only downside to this is that the program is a little more limited than paid ones.
Client's Reviews
---
Review 1

Review 2

Review 3

Review 4

Review 5
For 3 years I have been looking for a text to speech software that helps with my reading. So far, only Text to MP3 has over 5 languages I can choose from, making it easy for me to catch up on my German class. So 4 stars from me.
I have a lot of fun using Text to MP3. You can include background music to it, which is great for making YouTube videos and podcasts. I'm giving it 5 stars, as its English speaking voices have a natural sound behind them.
All of it could be improved honestly. The English sounding voices don't have the complete accent, and the Spanish voice sounds a bit too fast for me. 2 stars, but I know they have the chance to grow from their mistakes.
Everything in this app does as expected. 5 stars. I can use it to add a natural voice to my YouTube channel, making it easier for my audience to grasp my content. Will be using it again, as its MP3 file conversion is on point.
So I have to make an account to use this app fully? Like it works, but I don't like the account registration option for now. But 3 stars is reasonable because I can still use the app when I'm at work.
Our Verdict of Text To MP3
---
12. TTSMP3

The 28 languages supported by the text-to-speech MP3 converter TTSMP3 include English, Spanish, French, Portuguese, Italian, Japanese, Chinese, and Indian. Furthermore, you have a choice of 60 real-sounding voices and various pronunciations. You can also download MP3 versions of the converted texts.
Furthermore, you can add speech modifiers like breaks, increase/decrease, emphasis, and higher or lower pitch by using special characters. In addition, you can integrate multi-speaker conversations and whispers.
The application allows users to have conversations by switching the text's speakers. TTSMP3 is a fantastic option if you simply want to experiment with making your website more accessible or hearing the content of your presentations, YouTube videos, and e-learning courses. Additional benefits include its simple user interface, quick turnaround, and free service.
Features
---
You have control over a number of features with TTSMP3. Essentially, you can ask the program to insert a break between specific sentences. If you want the program to read quicker, you can also increase the speed.
Furthermore, you can create various back-and-forth conversations using this program. You can choose which Amazon SSML tags to use with TTSMP3 in order to control the special features. These are a few of the main reasons why this program has grown to be well-liked by those who want to convert text-to-speech.
Taking all factors into account, we can say with confidence that the TTSMP3 software is a respectable one that anyone can use with ease.
Pros & Cons
---
Pricing
---
TTSMP3 has a free and premium version. Firstly, the daily character limit for the free version is 3,000. A premium version with 24-hour access (1,000,000 characters) and a one-year subscription costs $5.
If you won't be converting a lot of words to speech, and you just need something that can get the job done quickly, we'd highly recommend ttsMP3.
Client's Reviews
---
Review 1

Review 2

Review 3

Review 4

Review 5
Pitch manipulation is amazing with this one. As that's why I'm giving ttsMP3 5 stars here. The commands that are used for the text-to-speech conversion is also very intuitive, as you'll only take a few minutes getting used to. A tool I'd definitely recommend.
It's average, with some good features, but I wish tts MP3 had more. If it could convert into WAV files, that would be a good plus. But as a text to speech software, I give it 3 stars because it still works like it's supposed to.
MP3 file conversions and clear voices, tts MP3, has it all! When I used it for a short excerpt, the voice sounded realistic, almost as if someone was reading it aloud for me! 5 Stars, and I can see myself using it again.
No! I have a hard time using ttsMP3! It says it works, but every time I try to use it from the browser it starts glitching! I've been using ttsMP3 for about 4 weeks and then it starts to change on me! 2 Stars, I hope they can fix their issues!
I can use it for conversations, as I use it for Spanish to English readings. It's a functional tts software, with only minor flaws. Still, I like its simple browser, as I can switch to any language and get what I need in seconds.
Our Verdict of TTSMP3
---
13. Vocalware

Vocalware is a cloud-based environment for integrating real-time text-to-speech into your online websites and apps. Any developer creating online applications can use Vocalware. It works with all frameworks and programming languages.
Oddcast, a well-known market leader in the digital and interactive sectors, brings Vocalware to you. Essentially, Oddcast offers more than 10 years of experience integrating voice technologies, such as text-to-speech, into all sizes and types of online apps.
When compared to some of the other apps on the market, Vocalware is a little different. It is a better option for organizations that wish to use text-to-speech functionality, whereas many of the text-to-speech services we have examined so far are aimed at the individual.
Vocalware can provide you with the required APIs, so you allow text-to-speech functionality in any application you use or create. This is useful if you want to make it possible for customers to convert text to speech.
Features
---
Compared to other for-profit text-to-speech services, Vocalware has a few benefits, and you can even test it out before you purchase it. Depending on your needs, you will have access to two different types of APIs. The first one is the JavaScript/HTML5 API, which is designed to work with full-size browsers.
If you're trying to work with standalone apps, then you'll want to use the HTTP (REST) API, which can be integrated into your own server. Vocalware also offers over 100 different voices in 20 different languages, ensuring its versatility.
Pros & Cons
---
Pricing
---
When using Vocalware, you pay for each audio stream, which can last up to 60 seconds. The first 1,000 streams will be free, and thereafter, you'll pay $1.10 and $2.49 per stream, depending on how many of them you buy at one time.
Client's Reviews
---
Review 1

Review 2

Review 3

Review 4

Review 5
It's a little slow for my preferences, but Vocalware is a solid 4 stars. The software helps with transcribing, but I can use it on my mobile phone, which is a great plus. Once I use this software, I have no problems reading!
Overall I am pleased with Vocalware. I've bought the paid version, and I can use it for any reading project. I've used it for my French class, and I was able to receive an A+ after using it for a few hours. So I'd recommend it and give it a 5 stars for its great service!
I'm giving it a 2 star not because of its use, but because of its limited features. The app has a 15 day free trial, which is an obvious bait attempt for users to buy their premium software. I wish they'd fix this soon!
I'm a developer, and I have to say that Vocalware operates smoothly. 5 stars because it can be used with Javascript and HTML 5, making it great for web pages. But if you're trying to learn with this tool, it has that as well.
3 stars so far. I would like the Vocalware software to incorporate more languages. When using this software, I found it have some minor glitches when trying to use Spanish. So always use it for reading, but nothing more.
Our Verdict of Vocalware
---
14. Voicepods

Voicepods combines a standalone service with one that makes it simpler for businesses to integrate a text-to-voice API anywhere they need, giving customers the best of both worlds. The fact that Voicepods is so much more user-friendly than many of its competitors is one of its best features.
Furthermore, Voicepods offers far more value than a lot of its rivals because you can even create a custom voice to use for unique projects. Essentially, when you use this application, you won't believe that you're hearing a robot talk because each of its voices sounds unique and human-like. This is one of the best text-to-voice software available.
Features
---
As we've already mentioned, one of Voicepods' most distinctive features is the ability to customize your voice using its software. Even if your requirements are a little more limited than that, you can still benefit greatly from it. There are also 16 international voices in nine foreign languages.
The Expressive Content Editor, which makes it much easier for the average user to add expressiveness to their voice, is one of the best features of Voicepods. This feature makes it quite simple to include things like a break, emphasis, pitch, and volume enhancement.
Voicepods is fantastic for API developers since it allows them to include audio into their products using their own voices.
Pros & Cons
---
Pricing
---
With Voicepods, you can choose your own pricing based on your needs. Voicepod's most basic plan is free, and it provides you with five conversations per month. The Starter package, which is its most popular choice, costs $9 per month and allows for up to 20 conversations. Furthermore, the cost to raise the number of conversations to 100 is $20 per month.
Client's Reviews
---
Review 1

Review 2

Review 3

Review 4

Review 5
I have to say, Voice Pods is a one of a kind. The software allows me to quickly read out my Spanish passages, which helps me get my homework done. I can comprehend both English and Spanish thanks to using this device.
It works with no problem. I can add in my short reading passages inside of the text box and get a quick audio reading! And when I try to use different languages, the voices don't sound robotic! So it's a great tool, and I can see myself using it again.
I don't want to use Voice Pods. The lack of features can be a deal breaker for some, but at least it does work functionally at least. 2 stars, as it does need some improvements as it still feels like a basic TTS software system.
Why do I love Voice Pods? Well, it allows me to quickly read out hard passages without having too much strain on my eyes. I have glaucoma, but this software makes it easier to digest and read faster!
It works, but there are a few kinks that need to be fixed. The Sophia voice sounds clear, but it would be a great idea if we could adjust the pitch just a bit. 3 stars, as I love how it works, just needs minor tweaks to its performance.
Our Verdict of Voicepods
---
15. Amazon Polly

This software is best for programmers who want to use AI and machine learning to produce incredibly realistic voices from text. While adding text-to-speech features to your platform is interesting, creating lifelike sounds with advanced AI is something unique. Amazon Polly makes that possible for you too.
You can design new classes of speech-enabled products and create apps that speak. Backed by deep learning and advanced AI, you can deliver an unmatched natural-sounding speech.
Amazon Polly offers a powerful technique of transforming text into speech that sounds like human speech, enabling you to make speaking apps. Deep learning is used this advanced text-to-speech software to create natural-sounding speech.
In order to produce speech of the highest quality, the API also provides NTTS (Neural Text-to-Speech). It has the ability to construct a custom voice, so you'll need to collaborate with the Amazon Polly team to develop a unique voice for your business. This is the best text-to-speech software with natural voices.
Features
---
Reliable Text-to-Speech Services
Users found Amazon Polly to be simple to use and access, according to the best text-to-speech software reviews. Chatbot audio, help desk inquiries, and interactive voice response (IVR) are the most popular use cases.
Additionally, Amazon Polly includes newscaster voices created to produce high-quality voice output in news form, as well as one bilingual voice that can speak both English and a foreign language simultaneously.
Lifelike Speech
The Amazon Polly API can be used by development teams to create speech-enabled applications via SDKs or the CLI. Additionally, Amazon Polly clients can use the medium plug-ins and WordPress to produce audio content for their pages, blogs, and websites.
Pros & Cons
---
Pricing
---
Amazon Polly free tier users get five million characters free every month for the first year. This is an amazing offer for existing users searching for the best text-to-speech services to access high-quality voices. With this software, Amazon Polly blends on-demand audio streaming with its expertise in cloud management to download, store, and redistribute speech. Users find Amazon Polly's pay-as-you-go strategy, which only charges for a text that is synthesized, to be more affordable and effective.
Essentially, for requests involving speech or Speech Marks, Amazon Polly's standard voices are billed at $4.00 per 1 million characters. The cost of Amazon Polly's neural voices for speech or requested speech marks is $16.00 for 1 million characters.
Client's Reviews
---
Review 1

Review 2

Review 3

Review 4

Review 5
Amazon Polly has some standout features, some that have made my reading experience more enjoyable. I can customize the lexicon of the device, and I can teach Amazon Polly how to I want a word to be pronounced! Great for long-term reading!
There's a lot going on with Amazon Polly, some of the features either are too slow or unusable. I wanted to use the software for math; it was unbearable. Polly ignores certain mathematic formulas and negative numbers, making it hard to use for math purposes. I think their next update should consider this.
It has a text box where I can paste in readings, but I feel limited with the free version. So expect to pay a bit if you want to use it fully. But it's worth the money! I've been able to use it as advertised, so it's great for basic reading purposes.
After using Amazon Polly for 3 weeks, and its natural sounding voices has improved my son's reading comprehension! The English U.S. speaking version has distinctive voices, so the variety does help with understanding different texts.
I only gave this 3 stars because of some of the languages that are provided. Polly has a hard time speaking in a British or an Australian accent. Besides that, it functions well, and I can use it for small reading passages.
Our Verdict of Amazon Polly
---
16. Speechnotes

Speechnotes is a great option for users who don't want to spend a lot of money on their text-to-speech program, even though it might not be as user-friendly as some of the other options on our list. The free edition of this one has a lot of features, but the premium version is also available.
This software' style is inspired by notepad, you simply enter text into it, and it will convert it into speech for you, providing you with all of the tools in a neatly arranged row on the side. Furthermore, Speechnotes has built-in cloud storage capacity, and you can even export documents directly to Google Drive.
Features
---
Speechnotes had a few elements that intrigued us because it isn't as straightforward as it first appears to be. As an example, the document will automatically save each time you make an edit, preventing you from losing your work in the event that the internet or the power fails while you're typing it.
Thanks to the useful shortcuts positioned nearby, you can also email the note to someone or even print it off with just one click. Additionally, using this program won't require you to log in or register, but if you want to access the additional features, you'll need to purchase the premium key.
Due to Speechnotes' web-based structure, interested consumers also don't have to worry about installation, download, or registration. With a simple click, your files can be printed or uploaded to Google Drive.
Pros & Cons
---
Pricing
---
There is no artificial limit placed on how much you can use this program if you don't mind seeing ads while using it. Users don't need to worry about spending money in order to use the tool; all they need to do is visit the website and speak into their computer's microphone.
However, the premium upgrade removes advertisements, adds a dark theme, and includes a few more quality-of-life features for just $10.
Client's Reviews
---
Review 1

Review 2

Review 3

Review 4

Review 5
5 stars for such an amazing software! Speechnotes gives me the ability to use it for Spanish, French, Arabic, and more! When I use the software, I find it easy just to apply my text files and receive a clear reading.
I am trying to learn English and Sppechnotes has made it easy for me to do so. Simply add in text, and the microphone can show it on the screen. I'd recommend it for Android users only, as it has mobile compatibility for this OS only.
I absolutely hate using Speechnotes! It's slow, but I can't seem to use it on my Android phone for some reason. When I have this application on, I need to take more than 2 minutes for it to be fully deciphered. 2 stars, will be waiting for updates.
Speechnotes is so intuitive! I can just use it on my Google browser and have my text dictated to me in Arabic. This is why I gave it 5 stars. The best thing about this app is its fast and has extra commands to add more emotion to the speaker's voice.
It works, but I wish they'd increase the quality of the robotic voices. I can use it for sure, but I am not a fan of its audio file transcribing. It's still in Beta, but it still needs some adjustments before it can be fully functional.
Our Verdict of Speechnotes
---
17. TextToSpech

If simplicity is what you're looking for in a text-to-speech service, and you're sick of being bombarded with options you'll never use, TextToSpeech.io is one of our favorites. In contrast to some of the other options, this site is easy to use and is a helpful solution that isn't trying to sell you anything.
This tool provides a variety of voices in several different languages from across the world, and there are still some options to modify the speech to your liking.
You won't need to spend a lot of time learning how to use it because of how easy its interface is. All you have to do is sit down and start typing.
Features
---
This text-to-speech tool may be straightforward, but it still supports a variety of languages ranging from Greek to English, allowing you to communicate with a diverse group of people. There are also some features that can help you alter the playback of what you type and make it sound a little more realistic.
First, you can change the recording's volume such that it fluctuates between a whisper and a loud conversation. The voice's pitch can also be changed from low to high, although it might sound a little phony near the high and low ends of the pitch scale.
If you're looking for a cloud-based speech synthesis software, you should definitely check out TextToSpeech.io. The solution, which is more for personal use, allows you to convert written content from eBooks, online pages, Word and PDF documents, and other official documents into human-like speech.
Essentially, you can use a smartphone, tablet, or computer to access the program from anywhere because it is powered by cloud technology. You can also upload documents from online storage lockers like Google Drive, Dropbox, and OneDrive.
Pros & Cons
---
Pricing
---
As mentioned before, one of the best features of this application is that it is completely free and doesn't even ask you to log in.
If you like the tool and you find that it's useful, you can use the optional donation button at the bottom of the page to help support the creator.
Client's Reviews
---
Review 1

Review 2

Review 3

Review 4

Review 5
I absolutely love using TextToSpeech.io. Not only does it have a realistic sounding English UK voice, but also another set of voices that I can utilize it for reading foreign text. So I don't have many problems using it. 5 Stars!
Everything does work with TextToSpeech.io. It's simple, effective, but it doesn't allow you to save your files into MP3! How am I going to take the completed readings with me? It still works as promised, which is why I'm giving it 3 stars.
I can't stand it! TextToSpeech feels so limited that I can only use its browser!! 2 Stars! It works, but they need to have more features in order for me to stay using it. Perhaps have more realistic voices next time?
Great, amazing, and a fully intuitive app. I gave it a 5 stars because I don't have to download anything extra. I can hop on my Chrome and just add my text right there. Very simple to use. Will recommend to students and professionals trying to improve their reading skills.
Reading is a hobby of mine, and TextToSpeech.io definitely makes it easier for me. I can manipulate the pitch reading and speed, but I gave it 4 stars because I feel like they could add more features. Still a great leading tool in my book!
Our Verdict of TextToSpech
---
18. Speech2Go
Speech2Go is a more comprehensive tool that offers access to a variety of features that help your spoken text sound as natural as possible. The software makes use of Ivona voices, which sounds more realistic than many of the free alternatives you can find on the market.
Because these voices seem so much more authentic and natural than some of the competing tools, the service is slightly pricier. Speech2Go should be one of the best solutions available if you don't mind spending a little bit more for a better text-to-speech.
This software is a robust solution for creating online courses that feature a built-in text-to-speech tool. You can record a voice-over for a course or video lesson using Speech2Go instead of searching for a narrator to do so. It can convert text into natural-sounding speech in a couple of clicks.
Features
---
Since this application uses Ivona voices, which are constantly being improved as we've already discussed, it's important to remember that it's always on the cutting edge. As a result, the text-to-speech outcomes sound significantly less jerky and more believable than those from competing programs. Therefore, this is the most natural text-to-speech software.
There are many other languages to choose from, and many of them have several speakers, so you can pick the one you prefer or even start a conversation. Speech2Go is also ready to work with businesses that are looking to implement text-to-speech features.
Pros & Cons
---
Pricing
---
As we've already mentioned, this program is a little more expensive because it uses such a sophisticated and realistic voice generator. Speech2Go uses a credit system in which one credit can convert up to 200 characters of speech. Three credits cost $5, 10 credits cost $15, 50 credits cost $65, and 5,000 credits cost $2750.
Client's Reviews
---
Review 1

Review 2

Review 3

Review 4

Review 5
I can use Speech2Go for practically anything. I'm giving it 5 stars because the software requires no effort and no downloads to get started. I can read passages, blog articles, or anything needed so I can start my day reading. Try it out.
The registration process was simple, as I was able to have my text read in seconds. 4 stars from me, as it needs to have more features, but I still find it useful for basic reading! Speech2Go is something worth looking into.
I can't use Speech2Go for my phone. And while the text box is simple, it would be nice if they created an Android/iOs versions for phones. The website can be difficult to read at times, but it still gets the job done I guess. 2 Stars.
Not bad, not good. But I do think the Speech2Go app is great for its purpose. I just think it's annoying that we have to register to receive only 400 free credits of reading. The software works as promised, so I'll be giving it a 3 stars for now.
My favorite text to speech software is Speech2Go. Not only is it simple for me to just add in text, but the voices sound clear to me! I can hear my reading passages out loud without having to strain my eyes. Definitely would recommend. 5 Stars.
Our Verdict of Speech2Go
---
19. Voicery

A more recent alternative called Voicery aims to perfectly imitate the human voice. There is a slight trade-off in quality and convenience with this service, which is similar to Speech2Go, but it has a more modern user interface.
Essentially, Voicery is a text-to-speech voice reader for Dropbox and Evernote. You can use Voicery to listen to a txt. file while you walk, work out, or go about your everyday activities. Your medial or commuting tasks can be more productive and enjoyable.
Voicery now exclusively offers English voice; however, this focus enables it to produce more detailed text-to-speech than competing companies that provide several languages. This is the best option if you require high-quality English text-to-speech and don't mind the lack of other languages.
Furthermore, Voicery is a high-quality app that is often thought of as one of the best text-to-speech online solutions available on the market today. People who have dyslexia, low vision, or other visual or learning difficulties can read written texts more easily because of the adjustable font size and style. Essentially, Voicery is the best AI text-to-speech software.
Features
---
Voicery's objective is to produce text-to-speech recordings of studio quality, which is why it initially chose to focus on English. Its generated voices are nearly indistinguishable from real voices, and the software even offers a quiz on its website to determine how effective the program is.
When using Voicery, you also have a wide range of customization options at your disposal because you can change the recorded voice's emotion, emphasis, and speed. Voicery is even open to working with commercial clients who would like to develop a new voice on demand for specific projects.
Pros & Cons
---
Pricing
---
As we've already noted, this text-to-speech service's pricing is one of its weaker features because it is more expensive than some of its competitors. When working on longer projects, you can expect to pay $0.001 per character for personal use, which can add up quite quickly.
Client's Reviews
---
Review 1

Review 2

Review 3

Review 4

Review 5
Charlotte I. Roberson
⭐⭐⭐⭐⭐
So everything is perfect with Voicery. The developers are nice and will work with you to create a custom voice. Which is needed for some reasons with learning disabilties. Will be using again and I can safely say that it derseves 5 stars.
Everything works right except its limited in some aspects. Why don't they have the TTS bot speak in French? Spanish? Or anything besides English? It still works as promised, so I give it 3 stars nothing higher.
Voicery works, and its flaws are so small only the most observant would recognize. The voices sound great, and I can understand every word that they are saying. Fix the MP3 file transfer, and they'll get 5 stars from me.
Voicery needs to change its infrastructure! When relaying the text back, the voices sound too slow, making it difficult to comprehend fully. 2 Stars. Will need to see more improvements in order to change my mind.
Amazing software! I added in my short script in the interface, and it relayed it with a natural sounding voice. This is better than other apps I've used as I don't have to waste time for the words to convert to audio. Very fast. 5 Stars
Our Verdict of Voicery
---
20. MWS Reader

MWS Reader is the best option in the category if you're looking for a fully functional tool to do your text-to-audio work on. While the MWS Reader is more expensive than other cost-effective options on this list, it has more features than many of them.
This is the best text-to-audio software, as it reads out documents for you and allows you to type out text that it will then read aloud for you. As an example, you can insert a particularly lengthy email into MWS Reader, and have it read aloud so that you won't have to read it yourself.
Features
---
MWS Reader is one of our top selections because of its variety of features. This program comes with 24 different skins that you can choose from to make your own. Furthermore, you can export files in WAV for high quality and compressed MP3 for efficiency.
Because you can increase the text size by up to 150%, this tool is also easier for visually impaired people to use. This program can be used by worldwide users who want to speak in other tongues because it supports a variety of languages. Finally, you also have a play-and-stop control, and you can even see how far through the document the reader has progressed.
It supports more than 16 languages and 50 voices. Additionally, it can read text from documents, emails, web pages, and eBooks (just to mention a few). It provides a wide range of benefits, including increased user engagement, increased accessibility, and
seamless online functionalities. Furthermore, it will help you gain a vast range of subscribers to enable the best form of success.
Pros & Cons
---
Pricing
---
Since this program is a little more specialized than the others and as a result costs more, you'll want to be aware of the price. If you want to use the MWS Reader, you'll have to buy the program in advance, and you can expect to pay around $35 for it.
Client's Reviews
---
Review 1

Review 2

Review 3

Review 4

Review 5
Once using MWS Reader, I notivced that they have a conversion in the WAV format, which makes it better than other TTS software already. 4 stars, and I will be using it again for the next book I'm planning on reading.
Reading is hard for me, as I've been diagnosed with dyslexia. However, when using MWS Reader, I have no problem inserting text I need in their software. And the voices have a natural sound, so I'll give it 5 stars.
It has to be fixed! Glitchy and can cause a lot of problems if not used right. Each time I use MWS Reader for WAV files, it keeps coming up as an error on my computer! 2 stars! If they can fix this issue, then I'd give it 4 stars at least!
Want to know why I gave MWS Reader 5 stars? Because of its speed that's why! I can also download it, making it easier to store finished readings on my iPod. I'd recommend it to anyone that's ready to get their reading comprehension back to normal.
You'll get a lot out of MWS Reader, but I do have to warn you about one issue. I have an issue with the software, and it can glitch out sometimes. 3 stars, maybe they'll fix it in a later update. But its still useful!
Our Verdict of MWS Reader
---
How Can You Choose the Right Text-to-Speech Software?
When deciding which text-to-voice software is best for you, it depends on several factors and preferences. These factors include whether you prefer realistic voices, whether you're willing to join the ecosystem of large firms like Amazon in exchange for quality assurance, and how much money you have available.
It's important to note that the best paid text-to-speech software we suggest are often subscription services rather than one-time purchase desktop apps, even though they are trustworthy.
A great text-to-speech software should have the following elements:
Natural Sounding Voices
The AI voices produced by a text-to-speech program should accurately mimic the likeliness, style, natural prosody, and uniqueness of human speech. Furthermore, the AI voice should be able to change the style or emotion and pause at the appropriate times thanks to contextual awareness. There should be a variety of options for both female and male voices, allowing users to easily personalize their voiceover experience.
Simple User Interface
A decent text-to-speech tool should have a user-friendly interface that requires little to no training. Users should be able to convert text into realistic speech with the simple click of a few buttons and create engaging voiceovers for their projects.
Collaboration
Team collaboration is a noteworthy feature of any browser-based text-to-speech software. To allow true real-time collaboration, different team members should be able to access and edit files, work concurrently on the same project, and share inputs.
Being able to work on the same audio file at the same time is important for true collaboration because, without it, working as a team on a big project can be difficult and slow. Working together in real-time not only helps us get over difficult issues quicker, but it also saves countless hours that would otherwise be wasted.
Import and Export Files
Any sensible text-to-speech program must also have the ability to easily import and export files in multiple formats. Working with digital information requires a lot of importing and exporting of files. Users of the text-to-speech program should be able to import text files in different formats or copy and paste texts to an editor. At the same time, there should be an option to export the final audio file in different formats.
Supports Different Languages
The capacity to convert content in various languages and accents is at the top of the list of a text-to-speech program's essential features. A great text-to-speech tool must allow users to translate their information into a number of languages and accents, thereby extending the content's global reach and assisting in the removal of language barriers.
As customers with a global footprint can develop a consistent user experience across various countries, this will also greatly expand the potential for business growth.
Customization Options
Advanced text-to-speech technology used to create AI voices can enhance a voiceover's naturalness, intelligibility, understandability, and tone. Without customization, a voice is just another regular voice. As a result, any reliable text-to-speech program should let users modify the voiceover of their project to suit specific use cases.
Change Speed Quality
It is time-consuming and expensive to produce multiple audio versions of your content using traditional techniques. Every time you need to update your content, you'll need to hire new voiceover artists, rent a studio, and work with audio experts. All of that can change if your text-to-speech software has a voice-changing feature.
Text-to-speech with a voice changer lets you change your voiceover's gender, language, accent, and other characteristics in addition to helping you turn poor recordings into professional-quality voiceovers.
Conclusion
In conclusion, there are more than 20 of the best text-to-speech programs for 2023 we mentioned here available. However, each of them offers a unique set of tools that may be used at any reading level.
We've made an effort to keep the list as diverse as we can while still emphasizing the top text-to-speech software that have never had any bad press, and that are clearly the market leader with the most natural human voices. No matter what your goals are, there is something for you on this list.
Moreover, we suggest Notevibes as a good option for a free text-to-speech software. Essentially, this is because of its advanced voice relaying and multilingual support. This text-to-speech reader is free, but for either $9 or $90 a month, you can upgrade to get more features (such as downloading WAV sound files and 1,000,000 characters). If this is your first time using text-to-speech software and you want something reliable, consider purchasing it.
Additionally, we advise choosing iSpeech or Amazon Polly for the premium option as they're the best TTS. These solutions give you control over the voices within the software, allowing programmers to correctly pronounce challenging words and business jargon. Therefore, if you're looking for a product that will give excellent value, consider buying this one.
No matter the option you decide on, you'll have access to one of the best text-to-speech online tools that will make reading easier and better suited to your goals.